Magnitude of the upcoming climate change
The 6th IPCC report 2021-2022 reaffirms with great confidence the conclusion of the previous report that there is an almost linear relationship between anthropogenic CO2 emissions and the global warming they cause.
The IPCC has developed 5 scenarios for 2100 concerning greenhouse gas emissions (CO2, CH4 and NO2).
Mean global surface temperature differences are calculated relative to the period 1850–1900.
Whatever the scenario, a global warming of 2°C would be exceeded during the 21st century.
Since the period 1850–1900 the global average temperature has increased by 1.1°C. Since the years 1975 an amplification appears with a rate of 0.15 to 0.20 °C per decade.
According to the scenarios (from the most optimistic to the most pessimistic) the temperature will have increased by +1.5°C to 1.6°C by 2040, by 1.6°C to 2.4°C between 2041 and 2060 and from 1.4°C to 4.4°C between 2081 and 2100.
The next 20 years will be decisive.
The 5 IPCC scenarios:
• SSP1-1.9 (very low emissions): +1.5°C compared to 1850–1900 (Paris Agreement). In this scenario, global CO2 emissions fall to zero around 2050. Societies are adopting more environmentally friendly practices, shifting the focus from economic growth to general well-being. Investments in education and health are increasing and inequalities are decreasing. Severe weather events are more frequent, but the world has avoided the worst consequences of climate change.
• SSP1-2.6(low emissions): +1.8°C relative to 1850–1900 at the end of the century. In this scenario, global CO2 emissions fall to zero after 2050.
• SSP2-4.5(intermediate emissions): +2.7°C relative to 1850–1900 at the end of the century. In this scenario, CO2 emissions hover around current levels and begin to decline by mid-century. No sudden change in our behavior.
• SSP3-7.0(high emissions): +3.6°C relative to 1850–1900 at the end of the century. In this scenario, CO2 emissions are almost doubled from current levels by 2100.
• SSP5-8.5(very high emissions): +4.4°C relative to 1850–1900 at the end of the century. In this scenario, CO2 emissions are almost doubled by 2050. The global economy is growing rapidly, but this growth is fueled by the exploitation of fossil fuels and energy-intensive lifestyles.
The increase in global temperature has an impact on cyclones and their intensity, sea level rise and their intensity, marine erosion and their intensity, the duration of heat waves and their intensity, etc.
Scenario 1 and Scenario 5 are very unlikely. However, many climate changes due to CO2 emissions (past and future) are irreversible, in particular the changes observed in the oceans and on the ice caps. But some changes can still be slowed down and limited by actions at different levels, from the individual to the international scale.
• Reduce greenhouse gas emissions: The main sources of emissions are related to the use of fossil fuels (oil, gas, coal), agriculture and industry. To reduce emissions, it is necessary to reduce our consumption of fossil energy, to promote renewable energies (solar, wind, hydraulic), to reduce emissions from transport and agriculture.
• Promote eco-actions: at the individual level, everyone can act in favor of the fight against climate change by adopting more sustainable and energy-efficient practices, such as reducing their energy consumption, reducing their waste, using transport in public or favor soft modes of transport.
• Encourage innovation: encourage innovation to develop technologies that emit less greenhouse gases and find solutions for energy storage, energy efficiency, renewable energy production, sustainable agriculture and Waste Management.
• Encourage policies and international agreements: it is important to support policies that encourage the reduction of greenhouse gas emissions and the transition to a decarbonized economy. International agreements like the Paris Agreement can also help achieve emission reduction targets.
• Raising awareness and educating: to succeed in limiting climate change, everyone must be aware of the issues and the solutions to deal with them. Raising awareness and education on environmental protection can help to change mentalities and behaviors.
These actions may seem ambitious, but they are necessary to avoid putting all our money into repairing the damage inflicted by future climate change.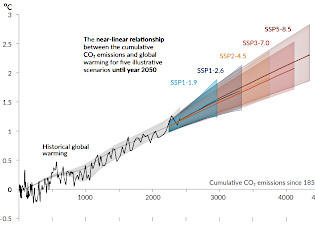 Image: Magnitude of future global warming
Mean global surface temperature differences are calculated relative to the period 1850–1900.
Whatever the scenario, it is only after 2030 that the curves really separate. Then, the amplitude of climatic disasters will depend on the scenario, and therefore on our behaviour.
Scientists generally predict that the frequency and intensity of tropical cyclones will increase with increasing ocean surface temperature. Current climate models predict that cyclones will become more intense and more frequent as the surface temperature of the ocean increases.
Source: The Physical Science Basis. Working Group I Contribution to the Sixth Assessment Report of the Intergovernmental Panel on Climate Change