The electromagnetic radiation from the sky background or Cosmic microwave background radiation (CMB), is a natural radiation of microwaves at low temperatures reaching the surface of the Earth from all directions of the cosmos. It is so called because it forms a background to all radio sources that point were detected by radio telescopes. It was detected for the first time by Arno Penzias and Robert W. Wilson, 1965, Bell Telephone Laboratories in New Jersey. The discovery of the cosmic microwave without specific source is the residue of the extreme conditions that prevailed in the first moments of the Universe. This has led to the conclusion that the universe, there is 13.7 billion years, was at a temperature of at least 3000°C. This background radiation of the sky at 2.7 K, i.e. -270° Celsius. It has not been issued to the birth of the universe but at the time when the universe passes from an opaque state to a transparent state, i.e. light.
Before one can not see the universe, it is opaque, but there are other fossils as the relative abundance of certain elements (Helium, Hydrogen, Lithium heavy). Physicists have come to the conclusion that the universe was at one point at a temperature of at least 10 billion degrees. This period is 1 million years before switching to the transparent state that corresponds to a temperature of 3000 degrees Celsius.
Going back a little in time, the universe reaches temperatures of agenda trillion level. In this state it is not composed of nuclei of neutrons and protons, but a soup of quarks and gluons. Quarks attract and repel by exchanging gluons as the electrons give off photons in the electromagnetic fields. Only when the temperature decreases that quarks combine to form neutrons, protons and mesons. Going back even further, one hundred of a second before, we still find fossils. For example, the number of photons versus the number of atoms is 3 billion.

NB: The parsec is the distance at which one astronomical unit (distance between Earth and the Sun) subtends an angle of one arc second.
Table of equivalences.
| | | | | |
| --- | --- | --- | --- | --- |
| | pc | al | au | km |
| pc | 1 | 3,26 | 206265 | 3,09x1013 |
| al | 0,307 | 1 | 63242 | 9,46x1012 |
| au | 4,85x10-6 | 1,58x10-5 | 1 | 1,50x108 |
| km | 3,24x10-14 | 1,06x10-13 | 6,68x10-9 | 1 |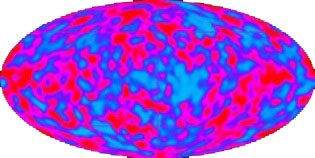 Image: The radiation of the background sky is a natural radiation of microwaves fossil 2.73 K.
These density fluctuations of the order of 1/100 000th show that about 300,000 years after the Big Bang, there was heterogeneous areas in the universe of a size between 100 and 1000 Mpc (mega parsec).
This image was produced by the COBE satellite in 1992.