The easy observation of sunspots reveals not only the sun's rotation on itself, to equator, is in 27 days, but that the activity of hot and cold zones of the Sun follow a cycle.
The solar cycle is the period during which the Sun's activity varies by up to another.
In absolute terms, solar activity is regulated by a cycle of an average period of 11.2 years but the duration can vary between 8 and 15.
The 11-year cycle was determined for the first time by the German astronomer Heinrich Schwabe in 1843.
In 1849 the Swiss astronomer Johann Rudolf Wolf (1816-1893), establishes a method for calculating the solar activity based on the number of spots.
Schwabe cycles are numbered from the maximum of 1761. Cycle 24 will begin in 2012.
Variations in solar activity on Earth are reflected by changes in the propagation of radio waves. The frequency range of interest covers the airwaves called HF or short wave, which propagate long distances. During these storms, the strong ionization of upper layers of the atmosphere can disrupt communications satellites, with consequences that may have imagined for telecommunications. Sunspots appear grouped in the hot photosphere (5800 K) as a dark area, cooler (4500 K), surrounded by a lighter region (4500 K to 5800 K) and are due to increased local magnetic field.
These spots can reach dimensions of tens of thousands of km.
At the beginning of the solar cycle, the spots usually appear at high latitudes in both hemispheres, north and south. Throughout the cycle, the spots will move closer to the equator until the beginning of the next cycle.
The spacecraft Ulysses flew for the first time in succession the parts of the South poles (1994) and North (1995) from the Sun, visible from Earth.
To observe the Sun's poles, the probe had to leave the plane of the ecliptic (the plane in which rotate the planets around the sun). It used the enormous gravitational field of Jupiter to change the plane of its orbit. Its orbit is perpendicular to that of the earth, far from the Sun at the distance of about 300 million km. The probe was ideally placed to observe, in July 1994, the collision of Comet Shoemaker-Levy 9 and Jupiter. Ulysses has to know the exact speed of solar winds. This constant stream of particles emitted by the Sun, is twice the size estimated.
This speed is about 800 kilometers per second.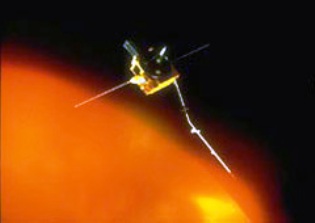 Image: The Ulysses probe was launched October 6, 1990 by Space Shuttle Discovery. The mission was terminated June 30, 2009 following the deterioration of the energy source of the probe. This ship of 370 kg, was the first and only fly to the Sun's poles to study the heliosphere, the vast bubble around our star. Designed for a period of 5 years, longevity has been exceptional, a record of 6822 days of operation (18 years 246 days).