Phoenix is one of several probes to search for microbial life on Mars. The space probe landed on Mars, July 31, 2008 confirmed the presence of water ice in the North Pole. Analyzes of samples taken at 50 cm depth in permafrost revealed water vapor. WASHINGTON - NASA's Phoenix Mars Lander has ceased to be issued after a little more than five months of operations, life expectancy was three months. The seasonal decline of the sun does not provide enough light in the Martian arctic robot. Solar panels covered with dust, do not collect enough energy to recharge the batteries that power the Mars lander instruments. Mission engineers have received the latest post on 2 November 2008.
The project team have little hope of his return to life due to the deteriorating weather conditions in northern Mars enters the cold season. "Phoenix has given us some surprises, and I'm sure we will learn a lot from this treasure trove of data in the years to come," said Phoenix Principal Investigator Peter Smith of the University of Arizona in Tucson. Phoenix landed May 25, 2008, farther north than any previous spacecraft that have arisen on the Martian surface.
Among the early results, it verified the presence of water ice in the Martian subsurface, including Mars Odyssey had detected the presence, distance for the first time in 2002. Phoenix's cameras have returned more than 25,000 pictures. These pictures show vast panoramas of Mars but also views a small scale, using the first atomic microscope ever used outside Earth. "Phoenix has not only raised the enormous challenge of landing safely, but it has a talented team of scientific analysis for 149 days," said Phoenix Project Manager Barry Goldstein at NASA's Jet Propulsion Laboratory in Pasadena.
"Phoenix was an important step to encourage the hope that we may discover traces of life on Mars," said Doug McCuistion, director of the Mars Exploration at NASA Headquarters in Washington. "With the upcoming launch of Mars Science Laboratory, the Mars program does not stop."
The University of Arizona led the Phoenix in partnership with Lockheed Martin Corporation of Denver International contributions and the Canadian Space Agency, the University of Neuchâtel, Switzerland, the universities of Copenhagen and Aarhus, Denmark of the Max Planck Institute in Germany, the Finnish Meteorological Institute and Imperial College London.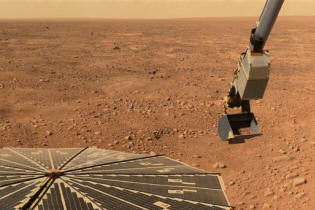 Image: Martian soil.
Credit: NASA / JPL-Caltech / University of Arizona / Texas A & M University.
More information about Phoenix http://www.nasa.gov/phoenix